Welcome to my studio - fueled by loose leaf tea, yoga pants and plants.
I am in my happy place when I am in my garden or my home and it is here that my creations come to life.
Jodi Neufeld Design collaborates with small creative businesses to create beautiful Squarespace websites that attract your dream clients and that are easy to update.
Let's eliminate website shame together
You want to be able to trust someone who you are handing your money over to. You do not want to have manage them and make sure they are following through on what they say.
I value communication and making my clients happy. I want to make it easier for you to do the work you love and leave the technical side and graphics of web design to me.
I love to go above and beyond to give my clients the best experience possible for their website!
My dream client projects have included photographers, interior designers, coaches and small business owners although I do not limit who I work and design websites for. If you are a Creative Entrepreneur and you are passionate about your business and ready to take it to the next level, then I would love to chat with you to see how my web design services can help you!
I have created a streamlined web design process and continue to refine it to provide an experience that is stress free and completely guided by me so you are not left wondering what to do or what the next step is.
Here is what my clients have said about my design process:
"Jodi is so organized and has nailed down a process that makes the complex task of building a website feel like a breeze"
- Jaime Fleres
"You were seriously wonderful to work with. The process was streamlined and easy."
- Kendal Perez
"I love your process because I've found working with designers in the past kind of stressful in that there wasn't a smooth way to collaborate and communicate as the project took shape. But working with you was a breeze! It was a very organized process and totally took the stress out of collaborating as you brought my vision for my site to life! I would have been happy to pay you more for such a great process!"
- Heidi Brockmyre
I am a freelance Squarespace Web and Graphic Designer located in Winnipeg, Manitoba in the center of Canada. I have always been a computer lover. I started out as a mainframe systems analyst and programmer but soon discovered all the creativity that I could unleash doing web design and graphics. My love of design started with planning a kitchen renovation. It was through this process that I discovered how much I love the blend of functional design and making things look pretty at the same time.
When I am not at my computer you will find me in the garden enjoying plants and flowers, or on the tennis court playing my all time favorite game of tennis.
I am blessed to have a wonderful husband and two daughters. My husband and I get the privilege of being involved with premarital counselling for couples at our church.
So how did a home reno project change my career path?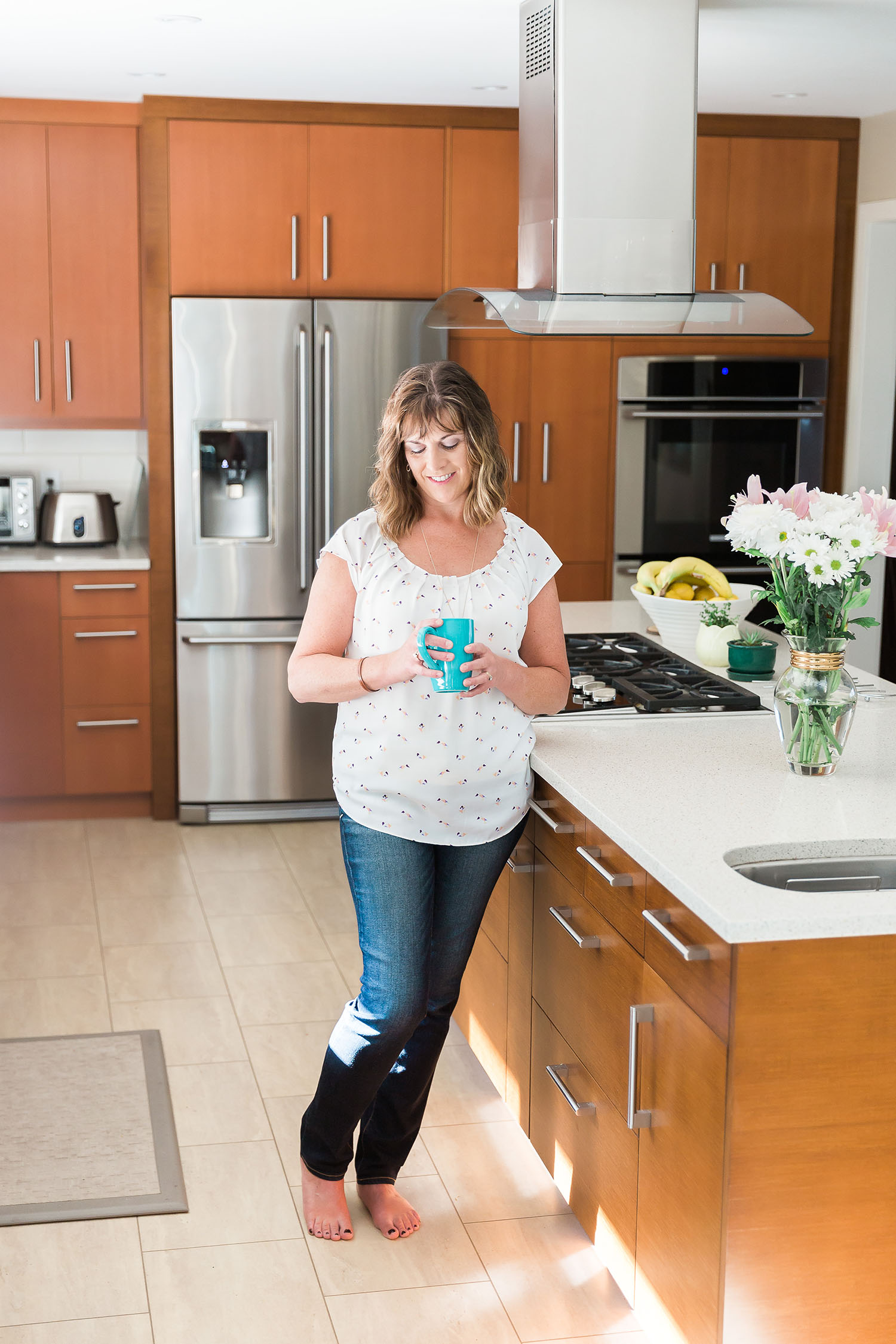 It was this kitchen that shaped my career path
When we were undertaking a renovation and complete redesign of the main floor of our house I spent hours and hours and hours researching and planning. We fluctuated on whether we would take down the wall between the kitchen and dining room and in general had lots of troubles deciding on a plan. So much so that it took us 7 years to plan!
During the process I decided to come up with my own designs. I got some software and laid out my dream kitchen taking into account things such as storage, work flow and design elements I wanted. When we finally decided on a plan I went into the kitchen design business we went with and I presented my plan. The designer there just tweaked a couple of things, but we ended up using my plan.
Prior to this, with my background in computer programming, I never thought I had a creative bone in me. It was through this process that I discovered how much I love the blend of functional design and making things look pretty at the same time. There is so much overlap with design of any kind. You decide on flow and usability. Does it function well? Is it easy to use? Is there a good traffic flow? What are your focal elements? Where do you want the eye to go?
These are all things that I now do when I design websites for my clients (and it is much easier to move things around digitally!). Who knew that a home renovation would spur on a new web design career for me?
Explore how we can work together